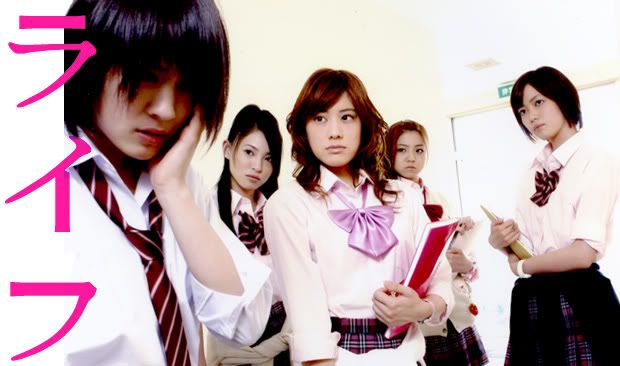 Have you ever been bullied? No? Well I have, and I'm sure most of you reading this have been the victim to (or cause of) bullying at some point in your lives, albeit at work or school or even at home.
LIFE (or ライフ) is a story about bullying. The TV Drama was based on a manga of the same name by Keiko Suenobu. And it's not an average High School drama, in that this has slightly darker themes and plots than some may be used to with other dramas, and as such, is probably aimed at a slightly older audience. The focus is on bullying, but it does touch on themes such as suicide, rape and domestic violence.
The drama follows Shiiba Ayumu (Kii Kitano) who tries to get into Nishiko High School along with her friend Yuko, whom she calls Shii-chan. But because her studies are weak, she asks Yuko to help her study for the entrance exam. But when the time comes, she scores higher and passes the exam. Yuko, however, fails to meet the requirements and is not accepted into Nishiko. She blames the time wasted helping Ayumu for her failure, and fails to commit suicide after running in front of heavy traffic.
When school starts, she tries to avoid people, thinking it best because she would just end up hurting them, but Anzai Manami (Saki Fukuda) quickly tries to befriend her. However, after an incident between Ayumu and Manami's boyfriend followed by her refusal to join in the bullying makes Ayumu the victim herself. She only finds hope and the will to fight the bullying from her friends Hatori Miki (Megumi Seki) and Sonoda Yuki (Takahiro Hojo), even where the teachers and other students turn a blind eye to what is really happening.
I loved this drama. It really succeeded in getting strong emotions from me as I watched. You begin to feel for the characters and during those scenes where Ayumu is in danger, for example in the scene when they try to force her to swallow needles, you feel as scared and worried for her as she is. You may even find yourself talking to yourself while watching. I sure did. "Just fight them back! Just punch her!" Yeah. I'm sure I said those things. I think this shows that the story was well-written and adapted and the characters were portrayed very well.
And as a side note: don't you think that Manami (the girl in the center of the picture, at the top of this entry) bears some resemblance to Miyabi from Berryz? Maybe it's the hair. Or maybe it's just me. But I was thinking this throughout the drama. Almost distracting really.
The one thing I didn't like about this drama was the end. (I won't say anything about what happened. Find out for yourself!) Don't get me wrong, it was a great ending, but it felt incomplete. It felt like there should have been more. I wish there was more. A second series would have been great, because it felt like the writers got a little lazy towards the end and decided to just wrap it up where they had it and hand it over to the director.
And on that note, I think I'll wrap up this entry here too. I'd give this drama an 8/10 - spoiled only by the half-baked ending. But I reccomend everyone of you to go watch it. And if you are interested, you can stream the series from
here
.