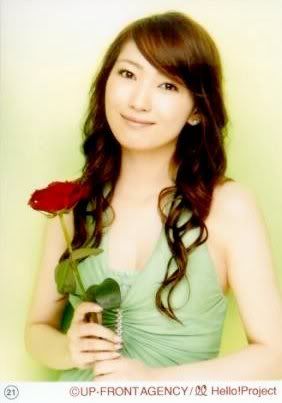 This news is a few days old by now, and I'm sure you've already heard it. But I wasn't sure if I actually wanted to post about this or not. It's hard to find words to say, to be honest. But I've decided to post about it afterall.

It was announced yesterday that former Morning Musume member Iida Kaori's son passed away at 6 months-old on July 27th, 2008 due to kidney failure.

Back in mid-2007, it was announced that she was 10-weeks pregnant and would be married to Kenji of 7House, a now defunct band formed by Tsunku. It was a shock, but everyone was happy and supportive. People were saying, "I'm sure she'd make a great mother." And then when she announced her son's birth on February 3rd, everyone was happy for her. We all assumed that the child was healthy. But it appears that immediately after birth the child was hospitalized due to kidney problems, and Iida spend alot of time in the hospital visiting her newborn baby. Her son was cleared and allowed to go home in April, much to everyone's relief I am sure. But his condition deteriorated and he died on July 27.

No one could have seen this coming. But the fact that they came out and told the media, and Kaori announced that she will return to work during the Winter Elder Club concert tour, shows that she has overcome at least some of the grief, and she says that by going back to work and singing, it will serve as some sort of personal memorial to the child. I was shocked when I read, and maybe I'm just a gossiper, as the first thing I did when I read it was to find the only person on MSN at the time (Hey, shwee!) and talk to her about it. There's no news like bad news. But it's difficult to find words to talk about it, I can't begin to imagine how the family would have felt about this. But I'll continue to support Kaori as her fan, and I know you all will too.