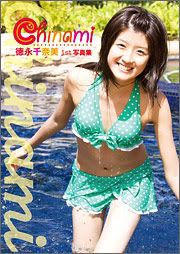 Is it true? Is it actually freezing over in Hell? Well, looking at this hot new
photobook
will certainly thaw it out!
That's right, children.
Chinami
becomes the latest addition to the list of H!P idols to get a
photobook
. It's due for release in 9 days on the 11
th
. Her
photobook
closely follows a certain other member's
photobook
in the way it's been released.
Six months ago, on the first day in March we
received
news that shook the world.
Sudou
Maasa
would get a
photobook
. We were given less than 2 weeks to
preorder
all our copies and get excited about it before it's release on the 11
th
.
Wait. All that sounds familiar. Isn't that what is happening now, six months after
Maasa's
? The dates are all matched up, hell, even the bikini on the cover doesn't look all that different. Sure, the colour and pattern are different, but the basic shape is the same. This is a copycat
photobook
! I'm onto your plan,
Chinami
! You can't fool me.
And if history really does repeat itself we should have a preview on
DohhhUP
! of the PB around this time next week. I look forward to seeing
weather
my predictions are accurate or now. But assuming they are accurate. Would it be
far fetched
to presume that 6 months from now, on the first of March, we'll hear news that Captain is to release her first
photobook
? She is the 3rd member of the "back three" as it were, and the only Berry now without a
photobook
- and to be honest, the member after
Maasa
that I most wanted to see a
photobook
of.
Anyway, judging from the wonderfully colourful cover of
Chinami
, as it appears to have been called, I think we can safely predict this to be an epic
photobook
and a well worthy look at what
Chinami
looks like in a Bikini.