(The entire group, as present on the last day. From left to right: Jaargilon, X5-2000, brilhantes10 (standing), killua76 (kneeling),
Ichigoproject, Julili, Pukovnik Krv, maoh, myself, sswishbone (standing) and Firren (kneeling).)

Wow. Just got back from Stockholm last night.
EUROWOTA
was the most fun I've ever had in my life. And this is what I have to say about it.
What is
EUROWOTA
, I hear you ask? It is the phoenix that rose from the ashes of the cancelled Stockholm Japan Expo. During earlier times when the Expo was still the thing that dozens of H!P Wota in Europe and abroad were looking forward to we had begun making plans for a H!O meet-up. People would meet in groups according to the hostel/hotel they were staying at and everyone would meet at the SJX venue for a massive Hello!Online Wota Party! We had also planned to go out drinking and such as well as seeing Buono! performing live. But then it was cancelled, and although I hate SJX and NewNippon for getting our hopes up and then cancelling,
EUROWOTA
did come of it which is still a trully amazing thing.
Lots of people started pulling out. Including chibilolli and Shirow, who I was very much looking forward to meeting. Of course, when those two cancelled, it left a few people without anywere to sleep for the duration of their stay. Luckily everyone got sorted in the end, but Jaargilon was pulling it pretty close trying to get somewhere to sleep on the first night as the Reina Star was full up.
So with the event cancelled and numbers dropping fast, those of us who still planned to go to meet up with other fans with or without Buono! decided to put together a fun weekend which definately wouldn't have happened if SJX was still on. Our numbers dropped from over 30+ confirmed attendees to 15. That said, 15 is a massive number for this kind of thing, especially since two of those attendees flew halfway around the world to see us (Jaargilon from USA and Maoh from Japan).
So we came up with some sort of Battle Plan, we had the entire weekend planned out weeks in advance. So here is how I spent my time...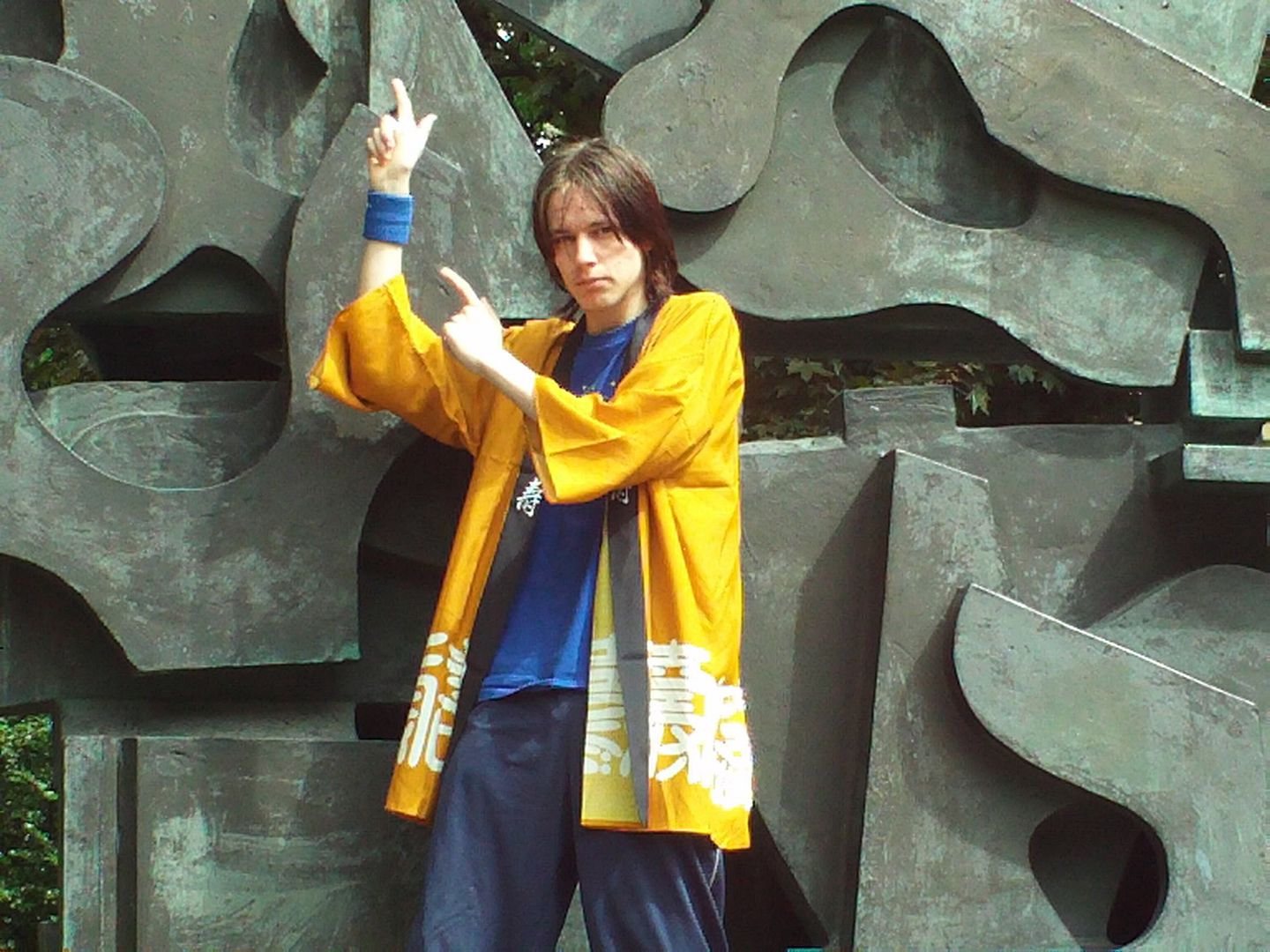 (Me in my Happi posing in front of some sort of statue
in a random park - I don't know why I had such an evil expression)
Arrival
I made one last post in the forums before leaving for Edinburgh Airport. I was incredibly nervous as it was my first time travelling alone. I didn't have a clue how Airports work or anything. And standing at the gate waiting to board the plane I noticed something odd... Everyone was Swedish. You would think that there would be a few more Scots on board a plane flying from Scotland, but everyone seemed to be speaking Swedish. That was odd.
There was 2 lines at Passport control when I got there. One on the left and one on the right. I decided to join the left one, because it was significantly shorter. Well, this is where life does it's typical tricks to piss you off. I discovered the reason why it was shorter, it was taking the controller on the left queue two or three times as long to pass a person as the other one, so like many other people I switched and went to the back of the other queue. Now, don't you hate it when you do switch and then the line you were in before suddenly picks up speed and you end up being the 3rd last person through passport control? Yeah. Me too.
So I arrived and all went well until I arrived in Stockholm City at CityTerminal. I was supposed to meet Shinya (Ichigoproject) there and she'd help me get to my hostel. But I didn't have a clue where I was going. Some 40 minutes past and I still couldn't find the spot where we had agreed to meet. In the end I paid for a taxi to the hostel, and it cost me 200SEK! The driver didn't even seem to know where he was going. He kept fiddling with his GPS.
And so, the others will never let me live that down. I became the victim of everyone's "Don't get lost like Dran did!" jokes. I deserved it. The meeting spot wasn't that hard to find, I was just too stupid.
Day 0, Thursday
The day before the rest of the company arrived. I got up pretty early and decided that it was a good time to have a look around and familiarise myself with the city (and by the end of the trip, we had all pretty much figured it all out). Stockholm has a lot of bridges, and these proved to be invaluable in helping me know where I was. You could see much of the city from the bridges and if you knew where most of them were located you could find where you were by just thinking, "Ah! I know that bridge, it leads over to Old Town!"
That combined with a map, made it pretty difficult to get lost.
I didn't dare go too far though, I decided to stick to some of the more common touristy areas like Old Town and hopped on board one of the sightseeing boats. It's a pretty nice way to see the city and get around. And going past Kastellholmen, we were told, "The red building on your right is the Citadel, built to replace the old one which was accidentally blown up in 1845." That was hilarious! How the hell do you accidentally blow up an entire citadel? Sweden is a crazy country.
I also visited the Vasa museum. It was pretty interesting. A 16th Century Royal Battleship which capsized and sunk 30 minutes into it's maiden voyage before it even left Stockholm and reached open waters. It was commisioned by the king himself to help him fight in the war against Poland, and for a whole 30 minutes it was one of the most powerful ships in the world. The guide told us an interesting tidbit, which was that had it sank in open water alot more people would have died because in that time it was considered unlucky for sailors to know how to swim. If they could swim, then they could jump overboard and desert in the middle of battle. Sweden is a crazy country.
So, I had arranged to meet X5-2000 at our hostel when he arrived that afternoon. So I caught the boat back to Old Town and walked to the Reina Star and waited for him there. I had been on my feet since about 11. And I met him at about half past 5. From there we went on and did some more sightseeing, we saw the Royal Palace and a ton of old and historic buildings. After that we headed towards the shopping districts where we ended up getting lost among hundreds upon hundreds of Clothing Stores and restaurants. Not because they were interesting, but because Stockholm seems to be built of those alone. In the time X5-2000 and I wandered around sightseeing (from 5pm-10pm), we must have walked past a dozen MacDonalds' alone. Then there was all the Thai and Chinese restaurants, the Burger Kings, the MAX's (which by the way, taste DELICIOUS!) and then clothes, clothes and more clothes. In the whole evening we saw like 1 electronics store. Sweden is a crazy country.
Day 1, Friday
Finally, we come to the first day of
EUROWOTA
. We were incredibly excited. The night before I had checked the Hello!Online forums, from where all this was being co-ordinated. And Shinya had posted about the fact that I hadn't turned up to meet her at Centralen on Day 1. Everyone was pretty worried, which made me chuckle. But we assured them that all was well. Luckily X5-2000 knew where the meeting spot was, or knew vaguely. So we managed to get there without too much bother, and with about 40 minutes to spare. (The meet time was 3pm)
When Shinya's sign popped up saying "HELLO!ONLINE" and having the usernames of everyone who was meeting us written on it, lots of people gathered. X5-2000 and I thought it would be much funnier to just sit and observe for a while though, and we did that until we felt our cover had been comprimised. (I saw Shinya looking in our direction, and I was wearing my Maasa shirt.)
So we met them, and interestingly things when much better than I had imagined. I'm a pretty shy guy, and I'm sure the others can be too, but when we all met we started talking and having a good time straight away. I guess 4 months of chatting in the forums really helped us get to know eachother, even though we had no way of knowing what was going to happen. And when there's a common interest of H!P and wotagei, things just go that much smoother.
So the idea was that we would do a bit of sightseeing as a group and then we'd get a few hours to do what we wanted before buying lots of alcohol and drinking it in the park under the Cherry Blossoms. Well, things sound different in words than they do in practice, let me tell you.
We left Centralen, walked past a few old buildings (like a big Kirk), but these aren't the sights we were going to see, it seems. We walked into some street lined with, you guessed it, clothing stores. Shinya and her friend David seemed to find these pretty interesting. But that was because she was a girl and he seemed to be dressed in emo fashion. But the rest of us weren't amused. After they had a look in two of them, we pressed on and found something a little more interesting. Some Science-Fiction book store. The walls were lined with hundreds of Manga. Both in English and some so fresh that they were still in the original Japanese. It's been a long time since I had any hardcore love for anime or manga, but even the most anti-otaku would have found a comic book store like this impressive. You don't see that kind of thing back in the UK, that's for sure.
After that, we came to to highlight of the tour (note the sarcasm in my voice). A street. A staircase. Some random alley up the side of a pub that goes up some stairs. We were told that it is famous. Maybe world famous. Why? Because it was so narrow that you can touch the walls on both sides simultaniously. Amazing! I can do that in my own house, I don't need to fly to Stockholm to see that. So I took this tour as my own. Shinya constantly made fun of me for getting lost on Day 1. So I used this to make fun of her whenever the chance arose.
After that, Shinya and David left us and we had a few hours to do what we wanted. So we went to a couple of pubs. That was incredible fun. We would have a drink, and sit and talk about anything, albeit H!P or how much we love Britain (again, note the sarcasm).
And so we met up with Shinya again after a few hours chatting in the pub (a decent place called London) when we then proceeded to buy some alcohol from a store and then met .Brian and his 2 friends at the ReinaStar where they were about to check in. Although on the way there, Shinya decided that we should wait and grab a bus, apparently it would get us to the Reina Star in 7 minutes. So the 3 Brits of us (myself, sswishbone and Pukovnik Krv), being the hardy folk we are, decided to walk. I told her it was only a 5 minute walk, but she didn't listen and we still beat her to the hostel. In fact, we had so much time left, we even decided to walk staight past it and on for another 2 blocks before turning back. So, we met Brian... Well, actually we sat for some 30 minutes waiting before they turned up at the hostel, and then there was no-one on duty for him to check in. And after 2 failed attempts at calling he finally got through and got a staff member to come to the hostel for him - apparently they had forgotten that he was arriving. So we were about an hour behind schedule by the time that he had checked in and was ready to go. Brilhantes10 had contacted Shinya, probably wondering where the hell we were. But in the end everyone met up and we proceeded to the park.
Swedish people seem to have some interesting views on the weather. Apparently to them daylight is "getting dark" and raining is bad. I don't know what the hell that was, but when Shinya kept saying that it was raining, it wasn't rain. At least it wasn't rain as I know it. Here in Scotland, it rains. It pours and it soaks you. But the "rain" in Stockholm did no such thing. Here we wouldn't even call it a light shower. It was wonderful, you could feel the rain hit you, but you don't get wet at all. If you've been in the rain in Stockholm and go home, you don't need to change your clothes because they'll be just as dry as when you put them on, you don't need a towel because you'll be just as dry as when you went out. If Scottish weather was like this, we'd be a much happier culture! Sweden is a crazy country.
But for all the unexpected shortcommings, it was incredible. To drink in a park til midnight. That's illegal here. To be as loud as we went when we discuss H!P freely in public (or rather in a pub), just try that in the UK, I sure amn't brave enough.
That was the first day. And an excellent start it was.
Day 2, Saturday
This day we had to be ready alot earlier. 10:30 was when we met at Centralen. From there we continued on to the theme park. As a group, we rode just about everything. Although certain members of our party decided not to ride for whatever reason. Firren didn't have the money to ride anything, so he sat out. We convinced Pukovnik Krv to ride the first rollercoaster but after that he didn't touch many rides at all. There was the Waltzers, but that was about it for him. He apparently doesn't like the rides that much - and in fairness to him, he wasn't feeling all that great even before he got on the rides. As for me, well, I refused to ride anything that went upside down. And X5-2000 preferred to ride things that didn't involve spinning, but wasn't at all reserved about riding Insane, the big rollercoaster which spins upside down and hits you with 3 and a half Gs.
But as the famous Top Gear philosophy goes, "As a unit we've passed". Even if only a few of us had the courage to ride Insane. (Namely Shinya, sswishbone, X5-2000, Jaargilon and Brilhantes10)
(X5-2000 and Jaargilon about to ride the 80-meter Fritt Fall)
Sswishbone was probably the bravest of the lot of us. He was the only one who rode on everything the group did and even went back again and again to ride Insane. So this is his shoutout. He's a braver man than I, or he has a deathwish. Mancs are a crazy people.
I personally rode a couple of the rollercoasters and those waltzers, etc. But after the waltzers I didn't do much. They make me feel ill. It was fun, but it's like that old Japanese saying, "Wise men climb Mt Fuji, but only a fool climbs Fujisan twice." Some of you may have stomachs of steel, but I'm human.
Still, I did pretty well on the rides considering that back home I never would have done that. But I figured that, given the occasion and the amount of money I spent on that ride pass, I should ride as much as I can stomach.
After that we went, once again, to our favourite pub, London. Jaargilon was supposed to meet us there, after he went to check in to the Reina Star, but he never turned up. I think in the end he went to a club with .Brian and started doing wotagei in a Swedish night club, before .Brian got hit by some random Lebonese guy. I wasn't there, but it sure as hell was funny hearing about it.
We then headed back to Centralen to get access to the internet. We were worried about maoh. He didn't speak much english and we weren't sure if he was going to find the meeting point on the last day or not. So in the picture below, you can see us sitting at the computers checking Hello!Online and trying to throw a message out to maoh in Japanese so he knows where to meet us.
We managed to post and then sat eagerly waiting to see if he would read it. 5 minutes past, and his name appeared in the "Users reading this topic now" part at the bottom of the thread. We all screamed out "MAOH!!!!" at the mere sight of his name. That was pretty funny. That we got so worked up over him and we hadn't met him before and had only read a couple of his posts on Hello!Online.
EUROWOTA
brought everyone closer together. I feel like I've made friends for life on that trip.
It felt good when he said he understood and would meet us. A total relief. I'd been worried about the guy for weeks.
Day 3, Sunday
The climax arrived. The ultimate day. Here the event would reach it's best, and here we would have to say goodbye to the people we had spent 3 full days with and may never see again.
We were to meet at 1pm at the usual place. Well, I dunno about the others, but I was incredibly excited by it all. I woke up a little too early so I passed the time on the forums. Seems I wasn't the only one though, as sswishbone was on them at the same time. It was gonna be a great day, I could tell.
X5-2000 and I decided to do a little last sightseeing before we headed to the meeting spot, as we'd not get another chance before going home. So I was walking around the city of Stockholm seeing the sights wearing my Happi coat. You'd think that it would be a bit embarrasing and would attract a lot of stares, but after what we had seen the previous day - such as the loli convention at Grona (I even managed to get an upskirt view of one or two of the gothic lolitas when they bent over to pick up their things. I know you wish you had seen it too!) and some random guy walking around Centralen in nothing but a man-thong... Yeah. I was feeling pretty normal, even in my happi. Sweden is a crazy country.
After a couple hours, we headed straight to Centralen to meet up. Although we had wandered a bit off track and had no idea where we had gone, so we hopped on the T-bana to get there. Thanks to that we arrived some 40-60 minutes early. Oh well. Just have to wait.
At 12:50, we noticed some guy standing at the meet spot (it's a popular spot), and started to think, "Wait a second... Is that maoh?" It was hard to tell. People kept getting in the way and such. Then all of a sudden we noticed some H!P stuff and was realised it was him. We got up and practically ran to him. We thought we were the first ones there, but all of a sudden sswishbone appeared from nowhere. Had he been there waiting too? Was he standing there the whole time, or had he been sitting off to the side like us? Or maybe he just happened to arrive at that very moment. I haven't a clue. But he did have a habit of suddenly appearing out of nowhere.
Anyway, we three (four, including maoh himself) introduced ourselves to eachother in Japanese. Well, I say that, but it was more a case of "Dran desu. Yorishiku." And we thought there'd be trouble communicating. We're much too intelligent to let that stop us! He seemed to understand me just fine. He knew that I was a Maasa fan and even mentioned her line in Happiness ~Koufuku Kangei!~ which the wota always sing along with her,
"Anata ni deaeta"
. I think I also saw him laughing as X5-2000 and I were arguing over who the better Berryz member was (Maasa vs Momoko). I must say, it felt good to know that we understood eachother, despite the language barrier.
He saw me in my Happi coat too, and decided he had to get a picture of me. I then convinced X5-2000 to put his on, and we 3 got a picture together.
Well, from there the idea was to get the train to the place where we would be watching concerts. And it was there that we went. It was great, everything was already set up and ready to go. Maoh just got a chance to further show off his collection, which he had started at Centralen (he looked pretty happy when he showed us MM's Shougenai Yume Oibito and talking about how it got #1, bless.) And we quickly decided on the first concert. The one we'd all been hoping would appear. Rock n' Buono! When maoh first pulled that DVD out, we let out a wota-scream of joy you've never heard in your life. We were originally coming to Stockholm to see Buono! live on that very day, and this was the next best thing.
Now, we put on the DVD and started breaking out the lightpens. I got a yellow one. Pete (sswishbone), who happened to be sitting right beside me through the concerts, got the last blue one, which I wanted for it was Maasa's colour. He wouldn't swap me because he wanted it for Reina's colour. Bastard.
Anyway, I noticed something interesting about Buono! when watching this concert. The wotagei is very different. There is alot less wotagei performed to alot of the Buono! songs than usually at a H!P concert. And on that note, the only ones there who actually knew wotagei was X5-2000, maoh and myself. So we often found ourselves leading the others. If we started chanting, the others would join in, but if no-one lead then they would all sit and watch. Sometimes I screwed up (such as when we did Romantic Ukare Mode after the concerts), I guess I'm not quite as well-practiced in wotagei as I'd previously thought. But the whole trip, for me, was a learning experience. I'll work to better myself as a wota. I'd like to be worthy of that title.
After Buono!, we decided to go for something a little more rounded, and went with Hello!Project Wonderful Hearts Winter 2009. That had something that everyone could enjoy. Of course, the highlight of the concert for me was actually Berryz Koubou's performance of Koi no Jubaku. One of the best Berryz songs to do wotagei to, and it would have been epic if they hadn't replaced two of the girls with Morning Musume. I hate the mix and mash of the groups in that concert. But that concert was probably the most fun. There was definately more energy to it than the Buono! before it (or the Sexy 8 Beat after it).
Doesn't that look fun to you? Well, things got even more fun after the 3rd concert, when the projector went back to it's owner. We had the speakers and the laptop, and decided to start dancing to different H!P songs.
As you can see in that last one, several of us started with Cinderella/Complex, but after the first 40 seconds, it became too difficult and we left Shinya to fend for herself. She did pretty well. I'm sure she had lots of fun as we hid out of the camera's view.
Afterwards, we decided to go to the pub as it started to get late. It was our last day together and I think we all had a lot of Krona still to spend. So we went to the London pub again, but it turns out that all the pubs shut at 11pm. What kind of city closes it's pubs at 11? The night is still young and we had cash to burn. So, we parted earlier than hoped because of the weird day-time drinking culture in Sweden. Sweden is a crazy country.
I hope that this won't be the last time I see everyone. I had more fun with them than I've ever had before in my life. And so I hope that EUROWOTA will become something of a regular event, with people from this year and new people alike turning up. Maybe we can get our numbers from 15 to 25 by the second event. So please, if you are interested in attending a EUROWOTA next year, then let us know. Also, a different city might be interesting.
I think the best places that would make a trip worth it is a city where there are lots of things to do, like in Stockholm we did a bit of sightseeing and went to Gronan. Without these touristy attractions a trip wouldn't be worth the 4 or so days it would last. Also, a city with enough local H!P fans to help support the event. This year totally wouldn't have been possible without Shinya to look after us all and Julili securing us a place and projector for concert-viewing. And not to mention a location which is easily accessed by lots of people - out-of-the-way cities in Hungary, for example, are no use since it isn't very central and most of the people in North or Western Europe would pay a lot to go there.
Thank you to these people for attending and making it all possible
:
Dran
Pukovnik Krv
sswishbone
X5-2000
Ichigoproject
Julili
killua76
Firren
Brilhantes10
.Brian (& Co.)
Jaargilon
maoh